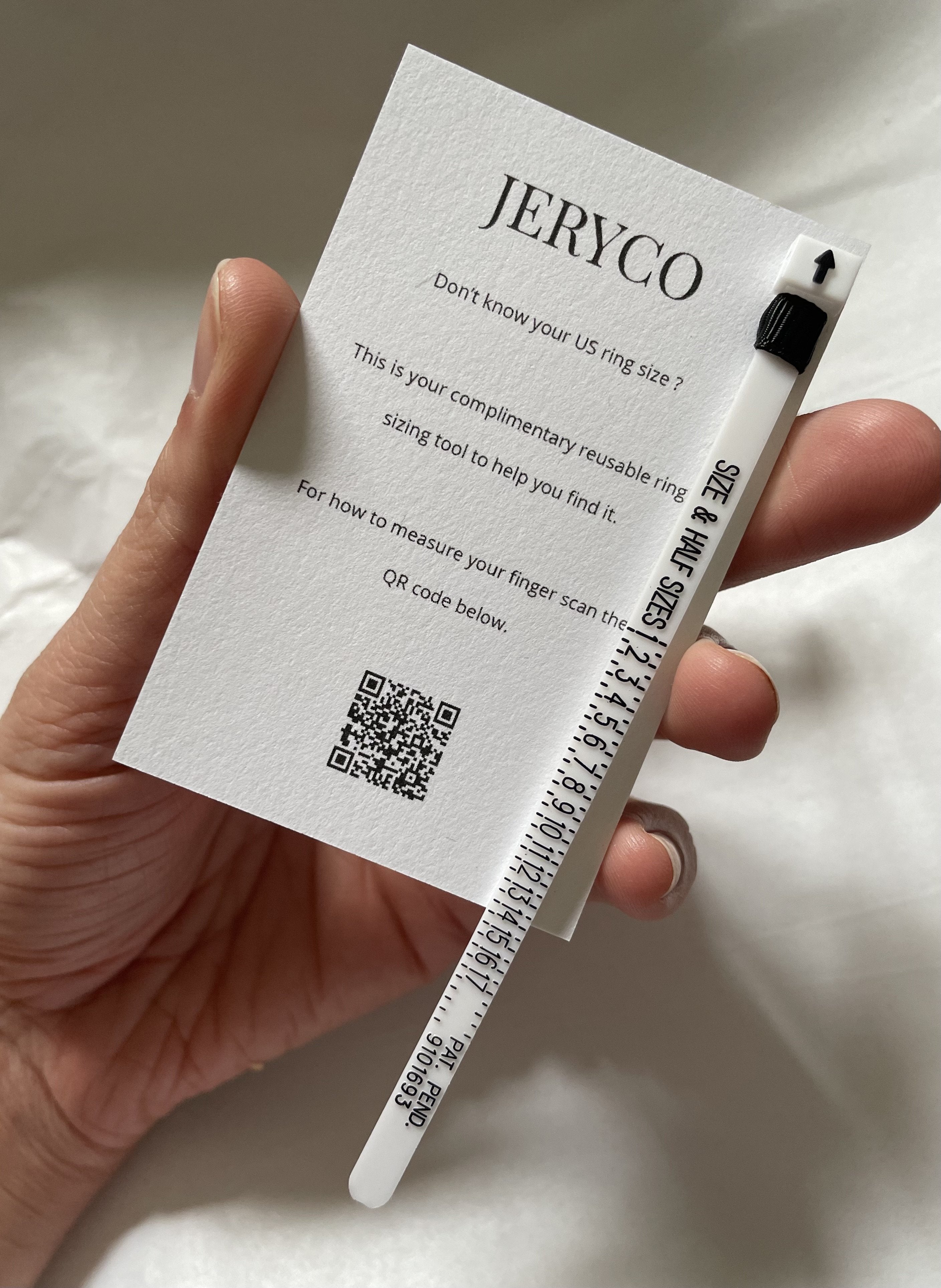 This is a free tool to help you find your US ring size.
How to measure your finger using the Ring Sizing Tool.
Wrap the reusable gauge around your finger. Threading the end through the channel. It should fit your finger comfortably; snug enough so that it will not fall off, but loose enough to slide over your knuckle. Note the number that the black arrow points to. Notches between the two correspond with half sizes. 
When to measure you finger
Finger size changes depending on the time of day and the weather. For best results measure your finger size:
At the end of the day and when your fingers are warm (fingers are smaller in the early morning and when cold.
Measure finger size 3 to 4 times to eliminate an erroneous reading.
Be aware that the sizes on the two hands can vary a lot. So make sure to measure the actual finger where you would wear the ring.
Please be aware that ring sizes shown on the website reflect ring sizes by each designers country. If you already know your size, using another countries measure, you can use the International Ring Size Chart to convert your size to the corresponding size from your country.
All jewellery pieces at Jeryco Store are sustainably made by hand, from recycled or ethical-sourced materials that are designed to last.
To find out more on how to care for your special jewels, head to our jewellery care page.
Frequently Asked Questions...
Payment Methods
1. All major credit cards
2. Paypal
3. Klarna
4. Clearpay
Shipping
All our orders are shipped within 2 business days. For shipment times, domestic is approx 1-2 business days and international 5-14 business days.
Duties Included
Customs and import duties will be pre-paid by Jeryco Store and you will not be required to pay any additional charges upon delivery.


Sustainability
We care about sustainability, from our manufacturing to our jewellery, all the way to our packaging and that's why you'll find all of our packaging plastic free, reusable and recyclable.
Returns
UK returns at Jeryco Store are free, simple and quick. We accept all returns with 28 days of receipt.
One Year Warranty
All jewellery at Jeryco Store comes with a 1 year guarantee.
Our Ethos
1. Unique & Timeless Jewellery
We house the most talented up and coming independent designers so you can explore them on the one platform.
2. Expertly Handcrafted & Sustainable
Championing jewellery that uses recycled or ethical-sourced materials, every piece is sustainably made and created entirely by hand in intimate studios and local workshops.
3. Slow Fashion
An antidote to the fast fashion high street, we stock thoughtfully crafted, timeless but affordable slow fashion styles in limited quantities.
Introducing
Solid 14 Karat Gold at Jeryco
Meet our solid gold jewellery you'll never have to take off.
Discover fine jewellery by independent designers around the world. All certified and hallmarked in accordance with the Hallmarking Act 1973.
Discover