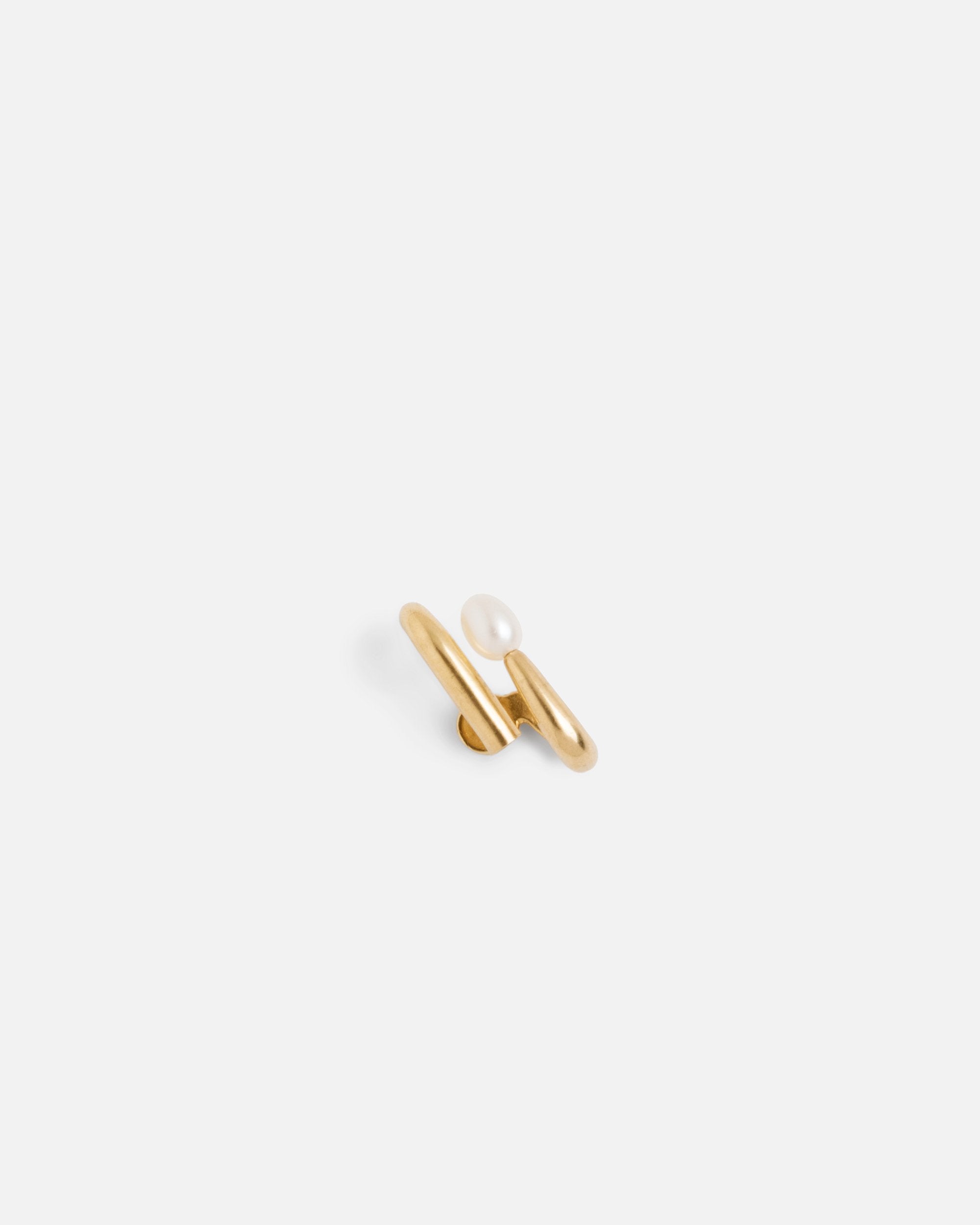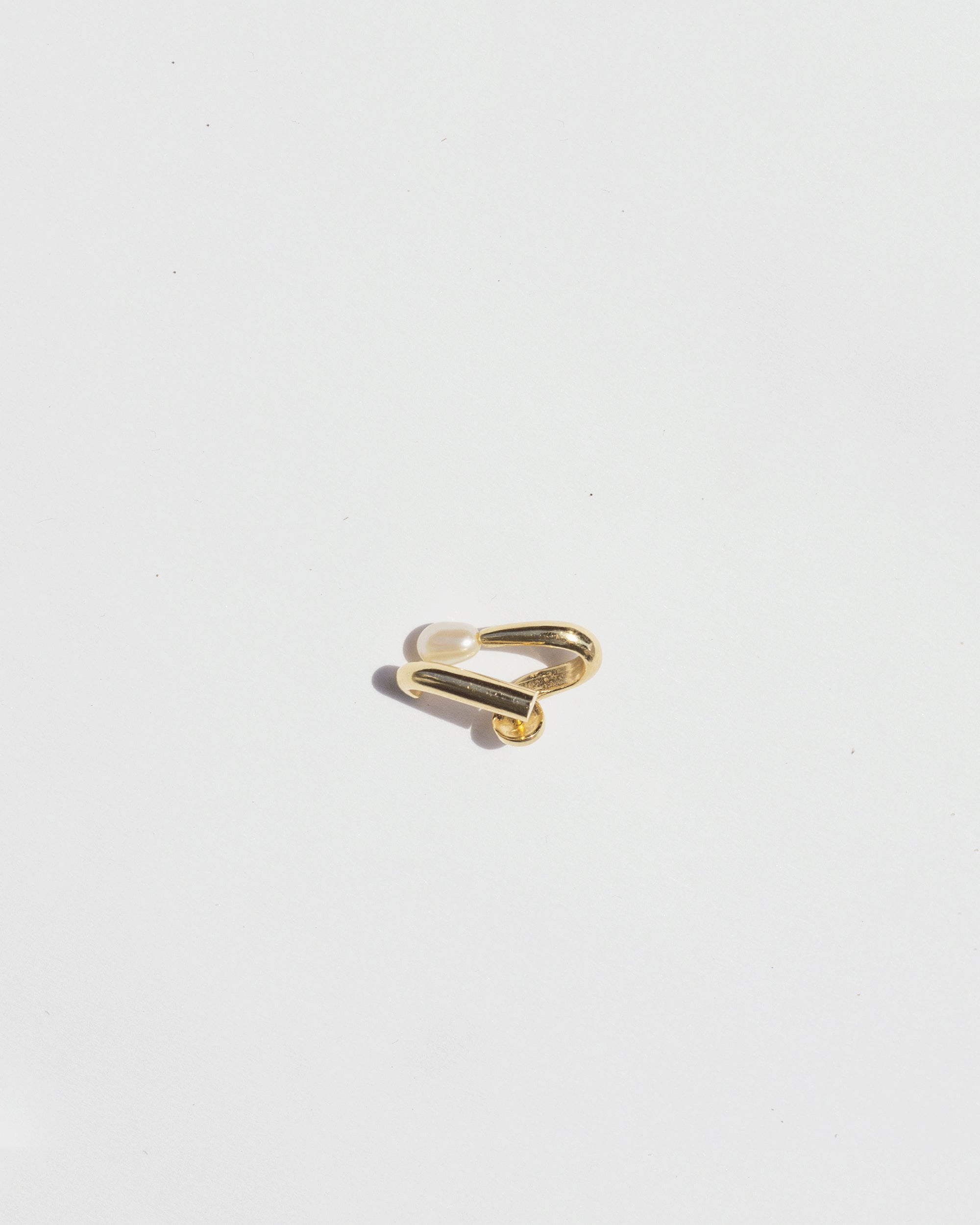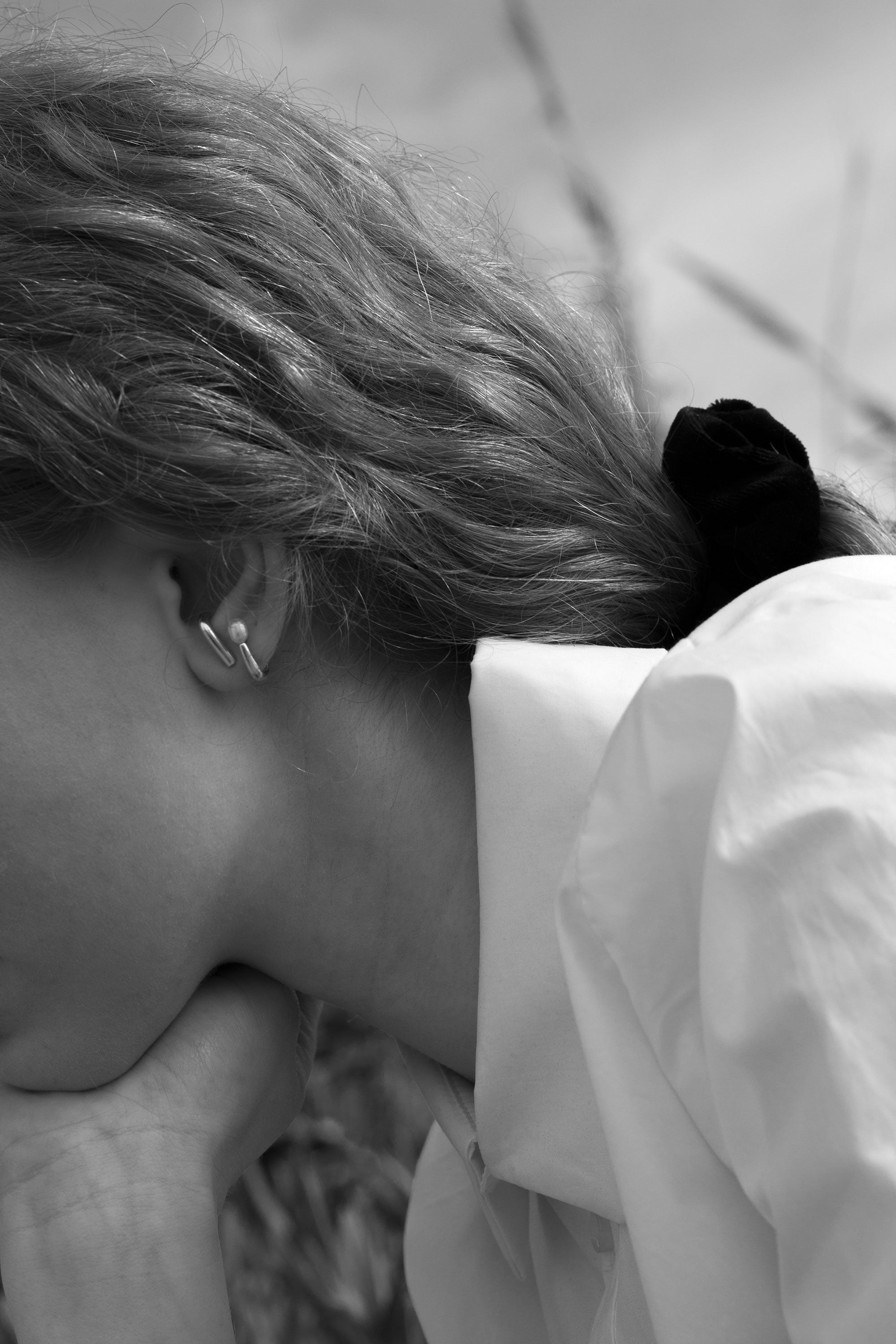 Description
Features
About the designer
Care & Use
Last one in stock
The Coil earring is a two piece illusion earring that appears as if by magic to wrap around the ear. It's dainty and delicate and requires only one piercing. Wear it with a crisp white shirt or a black tailored blazer for a chic contrast. 
Designed by self-taught artist Gittit Szwarc
Handmade in Tel Aviv
Available in 18 karat gold vermeil plated sterling silver
6mm drop pearl
Single earring
To order two, change quantity at checkout
When purchased as a pair the pearl position will be different on the left ear and on the right, creating a subtle asymmetry.
The pearl section [1] wraps before the bar [2] when worn on the right ear, and in reverse when worn on the left.
A self-taught designer with a background in martial arts and dance, Knobbly Studio's Gittit Szwarc focuses strongly on the lines of the human body: replicating them, responding to them, directing attention to specific structures. Her jewels, hand-crafted in Tel Aviv, Israel are streamlined and stripped of as many elements as possible to focus on lines and textures.
All jewellery pieces at Jeryco Store are sustainably made by hand, from recycled or ethical-sourced materials that are designed to last.
To find out more on how to care for your special jewels, head to our jewellery care page.
Frequently Asked Questions...
Payment Methods
1. All major credit cards
2. Paypal
3. Klarna
4. Clearpay
Shipping
All our orders are shipped within 2 business days. For shipment times, domestic is approx 1-2 business days and international 5-14 business days.
Duties Included
Customs and import duties will be pre-paid by Jeryco Store and you will not be required to pay any additional charges upon delivery.


Sustainability
We care about sustainability, from our manufacturing to our jewellery, all the way to our packaging and that's why you'll find all of our packaging plastic free, reusable and recyclable.
Returns
UK returns at Jeryco Store are free, simple and quick. We accept all returns with 28 days of receipt.
One Year Warranty
All jewellery at Jeryco Store comes with a 1 year guarantee.
Our Ethos
1. Unique & Timeless Jewellery
We house the most talented up and coming independent designers so you can explore them on the one platform.
2. Expertly Handcrafted & Sustainable
Championing jewellery that uses recycled or ethical-sourced materials, every piece is sustainably made and created entirely by hand in intimate studios and local workshops.
3. Slow Fashion
An antidote to the fast fashion high street, we stock thoughtfully crafted, timeless but affordable slow fashion styles in limited quantities.
Introducing
Solid 14 Karat Gold at Jeryco
Meet our solid gold jewellery you'll never have to take off.
Discover fine jewellery by independent designers around the world. All certified and hallmarked in accordance with the Hallmarking Act 1973.
Discover