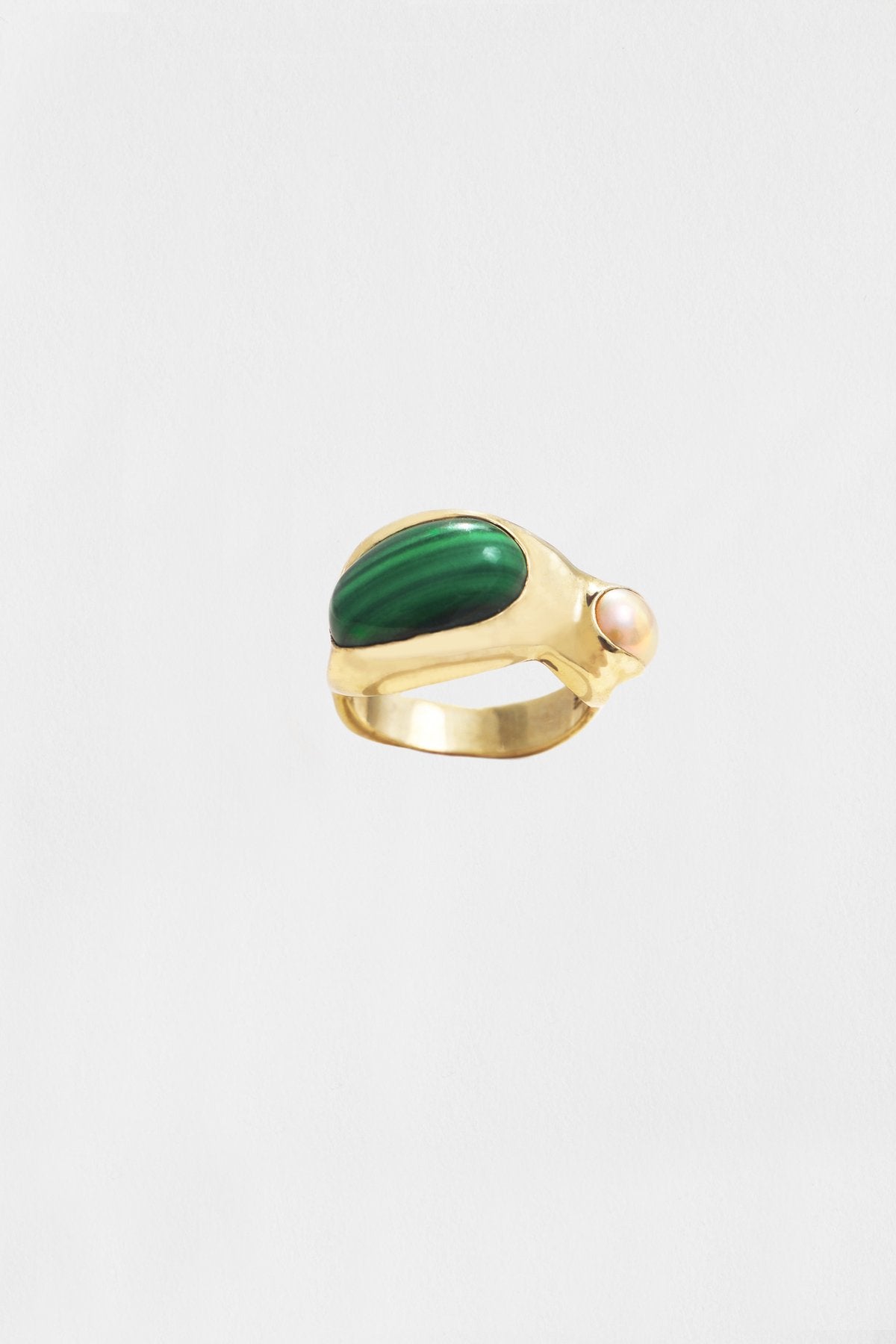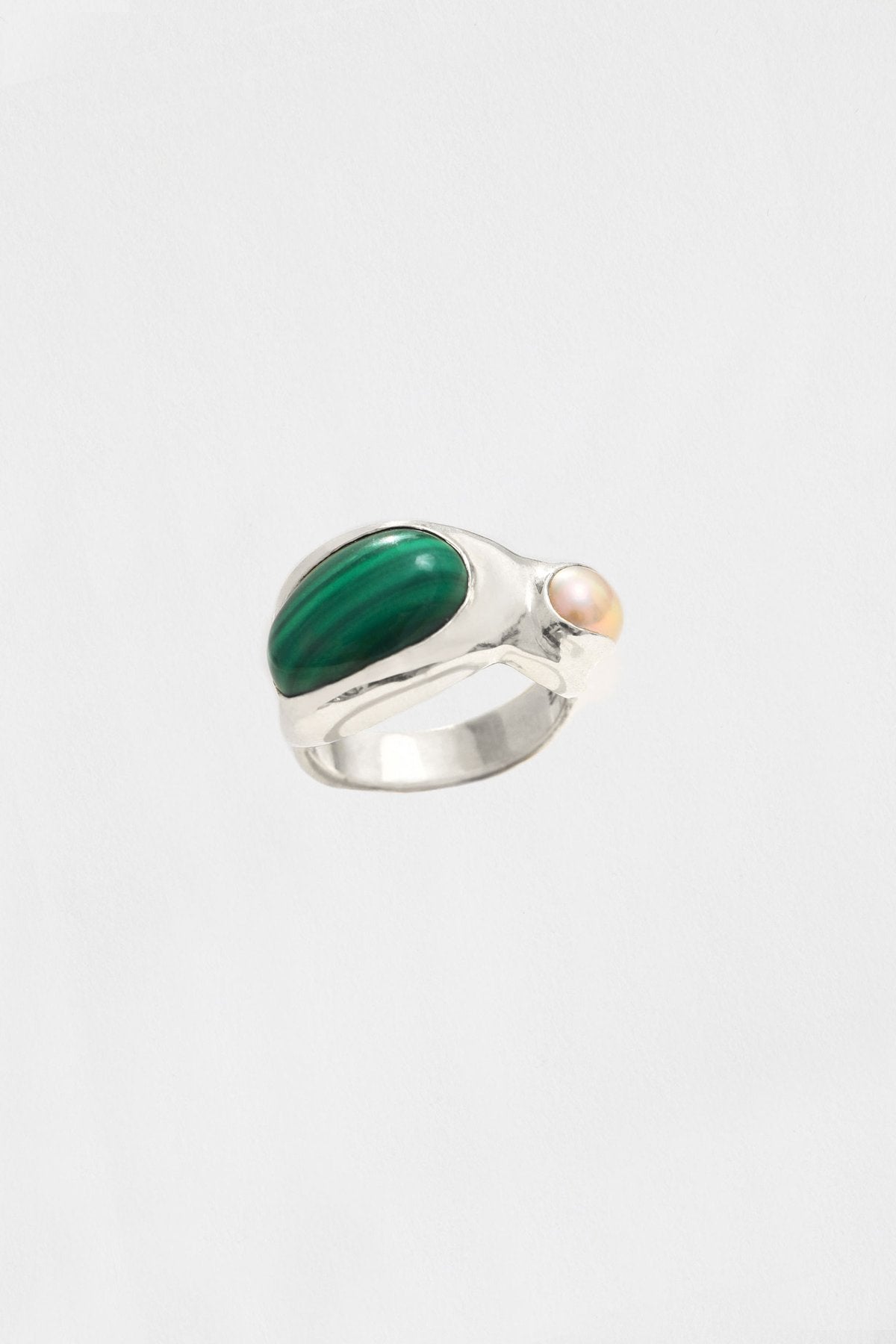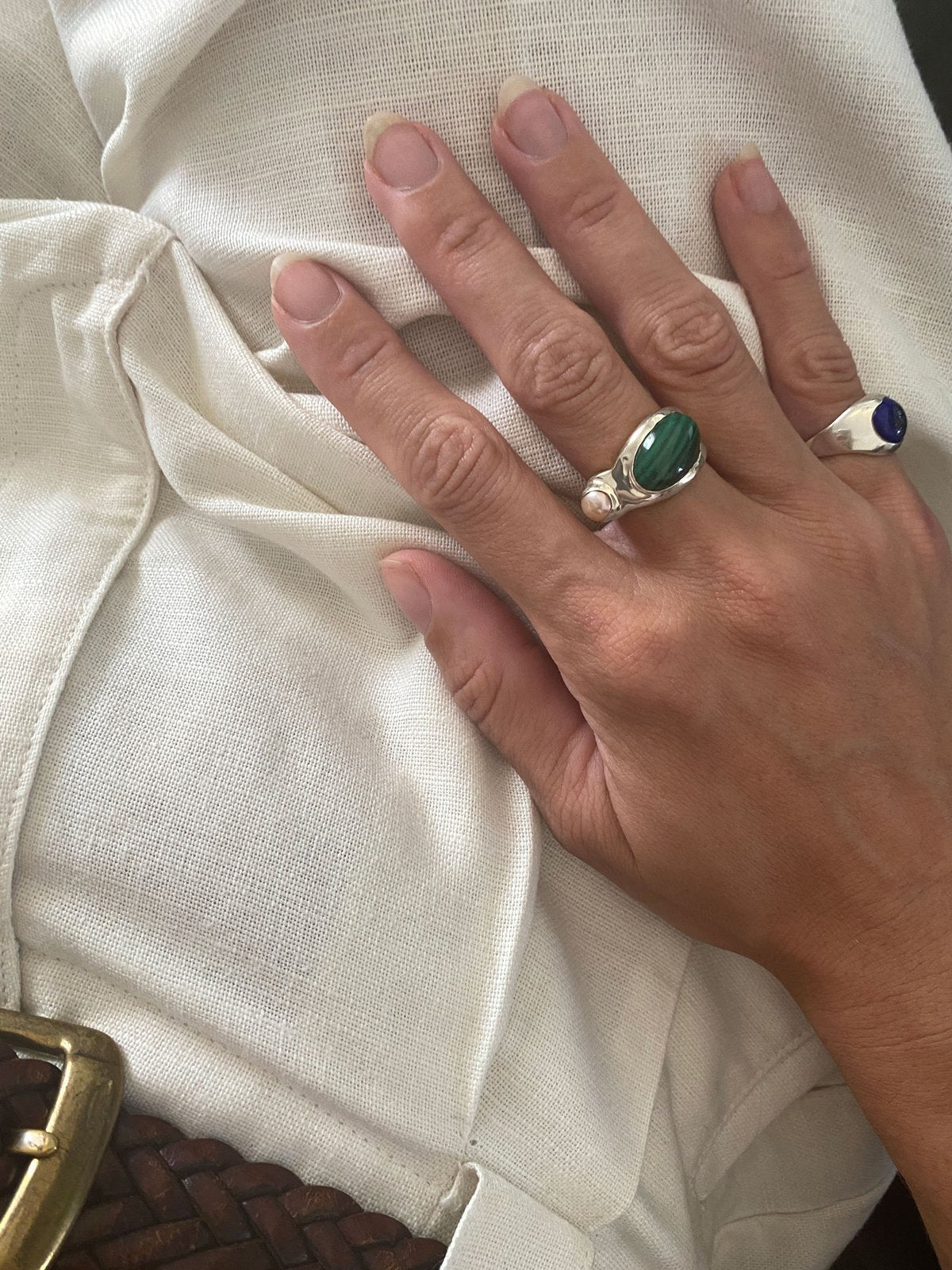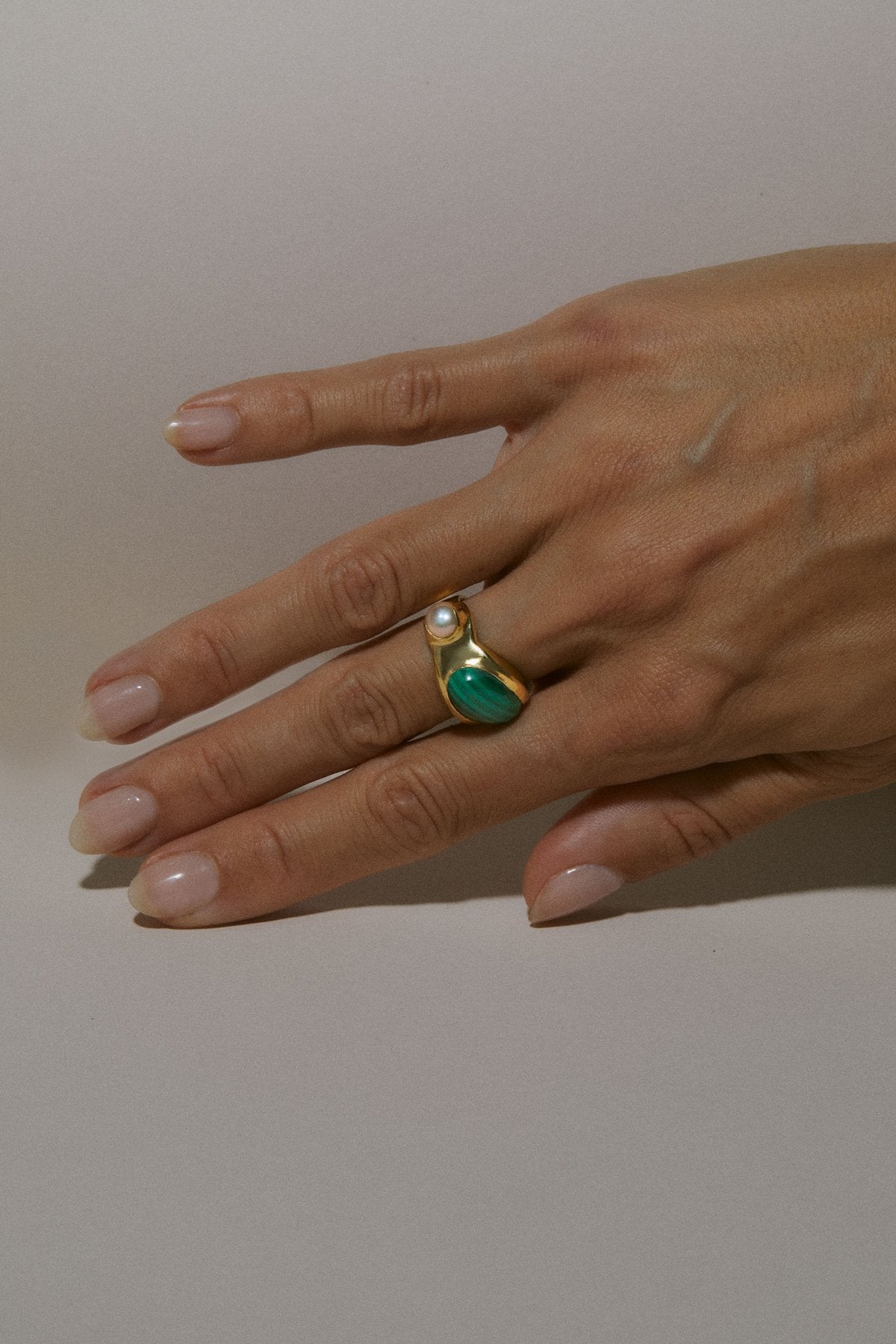 Goes with:
Description
Features
About the designer
Ring Sizing
Care & Use
A commentary on the relationship between land and sea, the Perlaquita ring sees two opposite gems sit in harmony together on a chunky band. This bold piece features both a large vibrant malachite and a round freshwater pearl. This piece can make a real statement on its own, but feels more modern when you team it with other styles.
Designed by Puerto Rican art director Melissa Hernández
Handmade in NYC
Freshwater pearl
Malachite
Available in sterling silver & 18 karat gold plated brass

Hernán Herdez previously known as Coyote Negro is a jewellery line designed by Puerto Rican art director Melissa Hernández. Currently exploring jewellery as a sculptural wearable element, joining the dualities between geometric and organic shapes, and harmonizing them under the same body. Crafted with the help of the best local jewellers in NYC using recycled sterling silver.
Need help with ring sizing?
Head to our Ring Size Conversation Chart here or alternatively you can order our complimentary ring sizing tool here.
All jewellery pieces at Jeryco Store are sustainably made by hand, from recycled or ethical-sourced materials that are designed to last.
To find out more on how to care for your special jewels, head to our jewellery care page.
Frequently Asked Questions...
Payment Methods
1. All major credit cards
2. Paypal
3. Klarna
4. Clearpay
Shipping
All our orders are shipped within 2 business days. For shipment times, domestic is approx 1-2 business days and international 5-14 business days.
Duties Included
Customs and import duties will be pre-paid by Jeryco Store and you will not be required to pay any additional charges upon delivery.


Sustainability
We care about sustainability, from our manufacturing to our jewellery, all the way to our packaging and that's why you'll find all of our packaging plastic free, reusable and recyclable.
Returns
UK returns at Jeryco Store are free, simple and quick. We accept all returns with 28 days of receipt.
One Year Warranty
All jewellery at Jeryco Store comes with a 1 year guarantee.
Our Ethos
1. Unique & Timeless Jewellery
We house the most talented up and coming independent designers so you can explore them on the one platform.
2. Expertly Handcrafted & Sustainable
Championing jewellery that uses recycled or ethical-sourced materials, every piece is sustainably made and created entirely by hand in intimate studios and local workshops.
3. Slow Fashion
An antidote to the fast fashion high street, we stock thoughtfully crafted, timeless but affordable slow fashion styles in limited quantities.
Introducing
Solid 14 Karat Gold at Jeryco
Meet our solid gold jewellery you'll never have to take off.
Discover fine jewellery by independent designers around the world. All certified and hallmarked in accordance with the Hallmarking Act 1973.
Discover